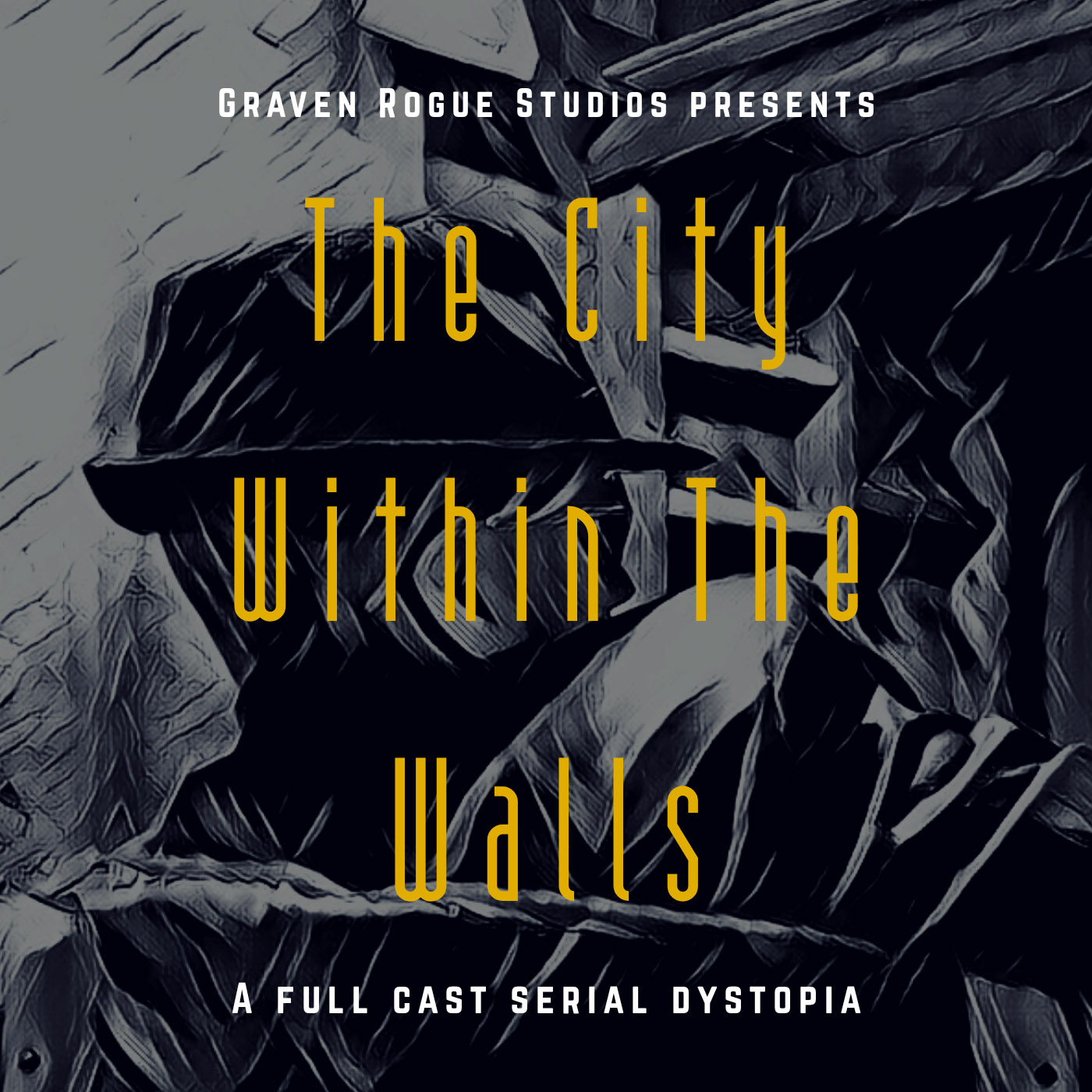 Come talk to us on the Podcast Junkie discord server https://discord.gg/napQ3Cb
[Narrator]
Rarely has there been found, in the past few weeks, a fine day in The City Within The Walls. Growing ever distant, the people's trust is beginning to wane from the council and the three protections<protectors>. However, a plan has been made...a plan to reinstate the peoples trust and plan to set the city back, on its correct course.
(Scene opens to a stadium. Thousands of people talking, laughing and having a great time. Then the volume dies and the scene takes place in a hallway of the stadium.)
[Woman]
I don't care what people are saying, the council says he's the man responsible.
[Man]
Well you should care. If it's true and he's just a patsy...and well...that's just wrong.
[Woman]
So what proof have you seen then...is there any proof?...or just people talking?
[Man]
I mean...there's the fact that he's one man?...how could one guy pull off all those explosions all by himself?...ya right...I'm not buying it.
[Woman]
For the sake of our kids...for the sake of our relationship, for the sake of your life as you know it...I hope you find a way to "buy" it. Do not. Make me. Be the one to turn you into the council as a heretic.
[Man]
Are you kidding me?
[Woman]
No...I'm not kidding you. If someone hears you talking this way and you get turned in they'll exile us all. You would be responsible for the death of your entire family...are you ok with that?...I hope your answer is no and you can drop all this.
[Man]
I'll drop it for now, but if I find any evidence, it won't be so easy to just drop.
[Woman]
Well...I'm going out to enjoy the show. Are you coming?
(They both exit the hallway into the crowd. The crowd is chanting hey oh. 
Scene end)
[Tharin]
(On the phone)
Yes, I'll be there.
[Aleen]
Ok, how do I get in?
[Tharin]
I'll have a few men meet you at the gate. They'll bring you to the back. When you get there, we'll go out and wave to the crowd and take our seats.
[Aleen]
Ok...do you...think this…..is the right thing to do? I mean, he didn't really do it.
[Tharin]
It's what must happen. We're doing what we have to...to protect the people and the council. Sometimes...things must be done...that are questionable. If you dont feel comfortable going…
[Aleen]
No I...I want to go. I'll be there.
[Tharin]
Ok, I'll see you there.
(End scene)
[Narrator]
Tharin, Aleen, Jarrett and all the other members of the council find themselves on the stage of the stadium. It holds nearly 350,000 people and every seat is filled. Those unlucky enough to miss their opportunity to purchase a ticket, sit at home, tuned in on their radios.
(Crowds, people chanting)
[Tharin]
I'm glad you made it Aleen.
[Jarrett]
Tharin.
[Tharin]
Yes father?
[Jarrett]
Be on guard for any disruption. We've received word that the Theosin may try to interrupt things.
[Tharin]
Right. I'll keep an eye out.
[Announcer]
Welcome, ladies and gentlemen, welcome. Today we celebrate the discovery of the man responsible for all the chaos, in our sacred city, these past few days. His name...Jeremiah Theis. Bring him out.
(Crowds booing)
[Announcer]
Jeremiah Theis, you've been accused of the bombings, which attempted to remove three of the most important protectors of the city. You've denied those accusations and been found guilty due to the ever mounting evidence. Do you now wish to confess to said crimes and wipe your conscience clean?
(Silence)
Very well then, let the people note that his silence is his confession. Put him on the platform.
(Steps, sounds of him being put in a noose.)
Ladies and gentlemen, the moment we've all waited for now approaches. Let our minds rest easy knowing that such an assailant is bidding farewell to this fine city. In his absence he will leave a safer, more stable city than his life allowed. Let the execution ...begin.
(Crowds cheering. Man being hung. Man runs on stage and grabs the mic.)
[Theosin member]
This man has done nothing wrong. 
[Tharin]
Here we go.
[Theosin member]
How could one man...plan and execute those bombings.
[Tharin]
Put down the mic. 
[Theosin member]
How can you all, stand by and watch as an innocent man dies?
[Tharin]
PUT DOWN THE MIC!
[Theosin member]
Tharin Grady is a liar. Hes convinced you all that…
(Gun shot. Crowd supprised….announcer grabs the mic.)
[Announcer]
I think we've had enough excitement for one day ladies and gentlemen (nervous laughter.) Please exit the stadium in an orderly and organized fashion. 
(Scene fades to people expressing their disbelief in what they just saw.)
(Scene end)
[Narrator]
After the events at the stadium, the people's opinion seems unchanged. The very foundations of their trust in the council has begun to crack, and crumble. The council is forced to convene, to determine a plan of action. After the meeting Tharin receives a call from his father.
[Tharin]
Father...what did the council say.
[Jarrett]
The...people are not happy...with your actions. The council however, has agreed to release a statement saying that you were given strict orders to handle any disruption by any means necessary. They will release the information on the man you shot, showing that he was in fact a member of the Theosin. 
[Tharin]
Hmmm, so where do we go from here?
[Jarrett]
You must talk to Ross. We need to find Saris...maybe then the people will start to calm down a bit.
[Tharin]
About Saris...father.
[Jarret]
Yes?
[Tharin]
Well, I hate to think this is the case, but James and I have come to an agreement, that Saris has joined the Theosin. Given the positions of the bombings, he had to have been the one responsible.
[Jarrett]
Tharin...what did they blow up exactly?
[Tharin]
Entrances to an underground bunker, built to house the council and staff, in the event of an emergency. I highly doubt, they've tortured Saris into revealing these locations...he had to give them up freely.
[Jarrett]
So...if the people do revolt and they come looking for the council...there'll be no place for the members to hide.
[Tharin]
That appears to be the plan.
[Jarrett]
All the more reason to find Saris. If he is indeed, working with the Theosin...he must be eliminated.
[Tharin] 
I just hope I can talk some sense into him, if I can find him that is. (Breath) I'd guess I'd better go talk to Ross.
(Scene end)
(Answering phone noise)
[Tharin]
Hello
[Aleen]
Hi Tharin, what are you doing?
[Tharin]
Oh, Aleen… I was just on my way to talk to Ross. How are you?
[Aleen]
Good, just checking on you. With all the excitement this morning I just wanted to make sure you're ok.
[Tharin]
Ya, I um, I'm ok...
[Aleen]
What's wrong?
[Tharin]
I don't know...I do know. I just...can't seem to...I'm suppose to be one of three people in the city, that can maintain order and peace...and things just continue to seem...uncontrolled.
[Aleen]
Tharin, you're...human. You're going to make mistakes.
[Tharin]
Hmmm, mistakes I can handle Aleen, this is...different. I've been trained to handle all of this and...I mean the Theosin are just a group of lower class, powerless puppets...and yet they seem to be outwitting me at every turn. They've always been just a joke to the three protectors and now...what must the protectors of the past think of me?
[Aleen]
Tharin, I think...considering all you've been through...you're doing a pretty <good> job. The bombing was a pretty traumatic event. It would have been, for anyone.
[Tharin]
Why didn't I see that coming? That's another thing, I was trained to foresee events based upon evidence. The bombings should've never happened and the backlash from shooting, that despicable excuse for a human I...I should've been able to see it all, but I wasn't.
[Aleen]
Are you...thinking about stepping down?
[Tharin]
No, council no, I will not step down. I just need to refocus. The Theosin are not good enough to pull all this off on their own. I know who's helping them. I just need to find a way to talk to him and find out why, maybe then I can bring...him back.
[Aleen]
There's no dishonor in taking a break for a while.
[Tharin]
I can't take a break, not until Saris is found and this entire mess is behind us. I'm just afraid of what finding Saris, might mean.
(End scene)
[Narrator]
After his conversation with Aleen, Tharin lands at that all to familiar warehouse we've visited time and time again. His mission? Push Ross to get results. Ross however, is Ross. 
[Tharin]
Ross!
[Ross]
Oh great. What now commissioner? Here to find a way out of your predicament?
[Tharin]
You never cease to amaze me Ross. Surely you've found something else?
[Ross]
There are two more patterns I'm following at the moment. One looks promising, but I'll need more time.
[Tharin]
Time really isn't a luxury the city can afford any longer Ross.
[Ross]
Yes well...I suppose you could go hunt this person down and have another execution of an innocent person, seeing how well that worked out for you last time or…you could give me some time.
[Tharin]
Ross, you're beginning to perturb me a bit.
[Ross]
Yes well, you continue to demand the impossible. Give me a bit more time and I'll have more results. I promise.
[Tharin]
(Breath) Fine. The very second you have something...let me know.
[Ross]
Right, I'll call immediately.
(Door closes)
If only I had a…(breath)...nevermind.
(End scene)
[Tharin]
I don't really want to kill him Salistine, but I may have no choice, that and...I guess I'm just worried about having to face him. He was always faster than me in our trials as children. He beat me, nearly every time.
[Salistine]
What do you think his first move would be? If you had to face him, I mean?
[Tharin]
I...I don't know. That's the problem I'm having. I can't seem to think straight, everything is pulling me in a million different directions.
[Salistine]
You, Tharin...are a creature of habit. You need structure to remain in control. However, even amid chaos, there is structure. You need to find that structure within your life, as it exists today And focus some extra energy on that. Perhaps it will alleviate some of the other stresses.
[Tharin]
As always Salistine, you make a great point. Now I'm sorry for having to do this, but I need you to eliminate our conversation.
[Salistine]
Why would I do that Tharin?
[Thatin]
If there is ever any evidence, that I'm losing my confidence, I could be removed from commissioner and...killed...really.
[Salistine]
Very well Tharin, eliminating the past 4 minutes and 19 seconds from my database.
[Tharin]
Thank you Salistine.
[Salistine]
Your welcome Tharin.
(Scene ends)
[Boss]
Jones...it would appear Tharins mistake, may have saved your life. I was about to order your execution, but his mishap has bought you some time.
[Jones]
That's...good news sir.
[Boss]
Yes it is Jones. I'm sending you...a very detailed plan. Follow this plan exactly. Any deviation will end with your life falling short. Do you understand?
[Jones]
Yes sir. I'm receiving the plan now sir.
[Boss]
Good….hang up now Jones...you have work to do.
(Phone call ends)
[Jones]
This guy…is...
[Saris]
He needs to be eliminated.
[Jones]
Yes. His vision for the future is one that may very well be worse...than the council.
[Saris]
Tell me every detail you have, that could help narrow him down.
[Jones]
He's very smart. Hes used an encryption on every call. We've tried isolating his voice, but everytime...well, he's very smart. Who ever he is, he has access to some gear that either shouldn't exist or is the most advanced tech in the city.
[Saris]
Is he proper, or lower class.
[Jones]
Proper, this man is very skilled both in tongue and cunning. The plan he sent is…well here, just look at it.
[Saris]
Hmmm, the detail is almost obsessive. Off the top of my head, I can think of a handful of people in this city that match those descriptions...and who are this...obsessive. Give me a few days.
[Jones]
Saris
[Saris]
Ya?
[Jones]
As the spokesperson of the people, allow me to thank you...for everything.
[Saris]
You can thank me when everything is said and done.